MISSION
To help China's orphans and children from poor families receive the necessary medical treatment & nurturing environment to improve their lives.
Blue Sky Healing Home is a small, private medical foster home in Beijing, CHINA, We
exist to help orphans and children from poor families from all over China, receive the medical care and surgeries needed. Our home provides these children with a loving and clean environment to heal their wounds and nurture their physical capabilities. We are able to provide the one-on-one attention and specialized care needed bythe children that most orphanages simply do not have the manpower for. And for poor families, we aim to provide the means before the families have no choice from lack of funds to abandoned their children.
Children are referred to our home by various foundations or volunteer groups that sponsor surgeries for orphans, or by the orphanages directly. Our outreach efforts also has us visiting lesser known orphanages where we assess children's needs accordingly, and take responsibility to provide the child with the care needed. Some children come to us post-surgery and simply require extra care while in recovery and follow-up visits to the doctor. Other children require us to make all arrangements for their surgeries, which we try our best to find the best surgeons and hospitals in Beijing. When the children are admitted into hospital, one of our staff will accompany them throughout their stay, as a parent would.
We have up to 20 children in our care, with various medical problems ranging from heart problems, bladder exstrophy, anus imperforation (born without an anus) to cleft lip and palate, bone deformities and joint disorders. Originally, all children were cared for in one house (we started with 6 kids only in 2004!), but with the severity of some of the children's conditions, we have expanded our operations and have 2 house now. Our Healing Home unit cares for children with more severe conditions, while our new unit Blossom House unit cares for children who have mostly recovered and are in waiting for adoption or that are longer term with us due to their ongoing therapy. We have a third house rented just as staff lodging and storage.

Blue Sky was founded and is run by Tania Hoahing-Goh, a Singaporean, together with Dr Maria He, from Beijing, and several dedicated volunteers that make up the volunteer management and medical teams. Blue Sky has a staff of 20 workers, made up of child caretakers, cooks & cleaners. We mainly rely on private donations from individuals and groups to keep running and helping more children. Our main expenses at the home are Staff Salaries, Diapers & Infant Formula, House Rentals, Food & Utilities, while other expenses include medicines, hospital fees, transport costs, which vary month to month. Sometimes we have to fundraise for specific children's surgeries that are beyond our limits, but each time so far, we have been fortunate that sponsors have come forward to help with the expenses. We sincerely thank all our supporters who have helped the children through the years.
Interested to volunteer?
We need regular volunteers who live in Beijing and who have a passion for the children. Drop us an email:
enquiries@blueskyhealinghome.org
Wishing all our friends and supporters a very Merry Christmas and a fantastic year ahead !
We are so thankful for our beautiful children and everyone's help to make a difference in their lives.
2012 has been a wonderful year for us, and we are finally an officially registered charity in Hong Kong. A huge milestone for us!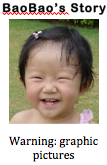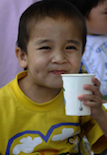 Thank you to Diversey Inc, for volunteering and sponsoring supplies. Read More...