Looking tired, but still managing to smile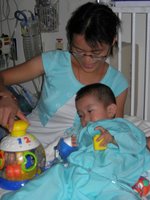 Our brave boy is doing well in recovery. He has been healing nicely, and is almost ready to be released from the hospital, into The Children's House - a housing facility near the hospital.
Tian You will still need further surgery at some point on his pelvic area - an osteotomy - but no earlier than 4 months from now. We are looking into the options for this surgery and will keep everyone posted.